Experience counts
With a strong legacy in marketplaces, ZELLIS Founder and Online Retail Strategist Tim Davies is not only a wealth of knowledge on multichannel retailing but also highly commercial and strategic. With over 25 years of hands-on experience in management and start-ups across multiple industries, Tim is keenly aware of the challenges of success. With valuable expertise in eCommerce, accounting, financial management, governance, legal, marketing, communications, logistics and user experience, Tim's plain English approach has helped hundreds of businesses quickly boost profits.
Tim holds a Graduate Certificate in Business Administration, and has served as director and secretary of several companies in manufacturing, FMCG, marketing and business services.
Tim serves as President of PeSA Australia www.pesaaustralia.org advocating on behalf of professional eBay Sellers in Australia and beyond.
Multichannel legacy
ZELLIS Founder Tim Davies first started selling online in 2006, both on the eBay marketplace and also through his own retail website
2010 – Tim was appointed Business Development Manager at eBay Australia & New Zealand
Delivered 3 consecutive years of sustained 40% YoY growth for a $100m portfolio in Australia, Hong Kong and Taiwan
Provided strategic direction for high profile retailers including Borders, Angus & Robertson, Kogan and Milan Direct
Consulted internally across the eBay business team on best practices, trust and legal issues impacting eBay sellers
Represented eBay to the Australian Federal Government at Parliament House in Canberra as part of a business delegation and presented the opening remarks at Labor's first Digital Economy Group session
Launched eBay Seller Academy in Australia, run in Sydney, Melbourne and Brisbane with a total of 200 graduates
Launched eBay Seller Recharge to promote networking and education with the eBay business seller community
Pioneered eBay seller-facing social media in Australia
Published "Trading Professionally on eBay.com.au for Small-to-Medium Businesses"
2012 – Tim was appointed Manager of Seller Education & Engagement at eBay
Launched eBay Seller Centre on eBay.com.au
Pioneered and delivered eBay Seller Training courses around Australia
Launched and ran eBay's seller-facing Social Media across Twitter, Facebook, Slideshare and Linkedin
Delivered eBay launch training to major retailers including Target, Officeworks, 3M, Pioneer, Nestle, Betta Home Living, Kathmandu, Fishpond, Catch of the Day and more
Presented regularly at retail and online industry events
Led successful Seller Outreach program to educate eBay merchants on best practices and growth tips
Responsible for the education and engagement of eBay Solution Providers in Australia, New Zealand, China, USA and UK
Collaborated with South Australia Small Business Commissioner's Office to facilitate and keynote a seminar on ecommerce seminar and panel for Adelaide CBD retailers in partnership with Adelaide City Council, eBay, PayPal, Australian Retailers Association and National Online Retailers Association (NORA).
2015 – Tim established ZELLIS to help retailers, wholesalers and marketplace sellers leverage mainstream ecommerce through unified commerce solutions and related services. Today ZELLIS is a team of 40+.
2016 – Tim was appointed as President of the Professional eBay Sellers Alliance (PeSA Australia)
2017 – Tim was awarded an eCommerce Industry Recognition Award
2019 – Tim was appointed Chair of the Marketplaces Council at Retail Global and achieved a world first by convening representatives from marketplaces eBay, Amazon, Catch, Kogan and TheMarket in a single cooperative
2021 – Tim was recognised as eCommerce Industry Person of the Year Finalist at the VIP Awards
Team ZELLIS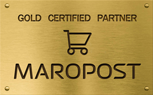 ZELLIS is a proud Maropost Gold Certified Partner. Our developers and designers have undergone capability training by Maropost and have a deep knowledge of this powerful and scalable platform. As one of the leading Maropost Partners, we work collaboratively with Maropost to achieve the best possible outcomes for our valued clients.
Our Merchant & Marketplace Services team of specialists are expert in data creation, structuring and optimisation for multichannel commence, plus image editing, marketplace channel management, seller onboarding, troubleshooting and optimisation, and comprehensive customer support.